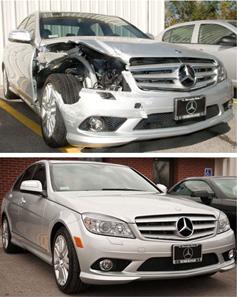 At Apex Motor Mart you have the assurance on all auto body and auto painting works; we have many years of expertise on completely restoring all vehicles models with heavy collision to the factory quality.
Our impeccable service record, reputation for providing the finest quality in collision repair and one of the fastest turnaround times in the business has brought us recognition by our partners such as the AA of Kenya. We also pride ourselves in being specialists in heavy collision repair for all vehicle models and brands.
At Apex Motor Mart, we know how precious time is, so we provide you with one of the best turnaround times in the business to get you back on the road.
Our services are professional, affordable, courteous, and prompt, many customers use our services repeatedly. We have the best service in accident repairs in Nairobi and Kenya in general.
Before a repair is authorized, we'll perform a free estimate of the work required on your vehicle and the time it'll take.
If you are looking for best quality affordable accident repair for you vehicle in Nairobi or anywhere else in Kenya please drop by our premises in Donholm Nairobi, or give us a call, email us on info@apexmotormart.co.ke  and will give pre-service consultation.
Accident Car Repair Garage Nairobi Kenya. Accident Car Repair, Collision Repair, Dent or Auto Body Scratch Repair, Accident Vehicle body fabrication and repainting Nairobi Kenya.  Vehicle Car Auto Accident Repair Nairobi Kenya.
We are one stop shop for vehicle repairs in Nairobi and Kenya including; umoja, kayole, komarrok, pipeline, jogoo road, buruburu, auterring road, embakasi, industrial area etc